Here is the page dedicated to "everything else" I would want you to know if you are visiting my blog (thank you for visiting my blog!)…
~For speaking (MOPS, events, etc)
Please email me at lifewithfourboys at gmail dot com
OR
Contact me via message on my Life With Four Boys…Coffee Please facebook page.
Some posts (other than the blog in it's entirety ;) ) for you to look at could be…
Study with Jen Hatmaker
The entire collection of Praise and Coffee
Constant silliness and mud with my boys. That's sorta a given.
~Blog Design
If you like the look of my blog, if you have blogging questions, if you need to know anything tech, you need Becca Ludlum.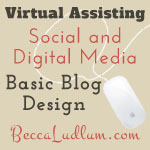 Becca is a blogger, freelance writer, and basic blog designer (that means she loves playing with Photoshop, but doesn't know html code). She lives in the middle of the Arizona desert with her husband and two boys, and can't imagine life getting any better. Peek into her life at MyCrazyGoodLife.com, or connect withher on twitter @BeccaLudlum.
~Blogs I never tire of reading…
Of course, my Praise and Coffee girls…
Sue Cramer at Praise and Coffee
Ronel Sydney at Chosen for More
~I couldn't cook without…
My mom's recipes and…